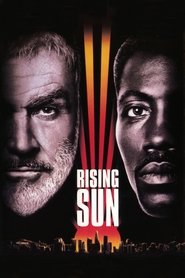 Rising Sun
(1993)
A collision of East and West. A conspiracy of seduction and murder. A battle between tradition and power. Business is war.
Run Time: 2h5m | Release: 30 Jul 1993
Genres: Action | Drama | Thriller |
Budget: $40,000,000.00
Revenue: $107,198,790.00
Production Countries: United States of America
Overview:
When a prostitute is found dead in a Los Angeles skyscraper occupied by a large Japanese corporation, detectives John Conner and Web Smith are called in to investigate. Although Conner has previous experience working in Japan, cultural differences make their progress difficult until a security disc showing the murder turns up. Close scrutiny proves the disc has been doctored, and the detectives realize they're dealing with a cover-up as well.
Cast Of - Rising Sun
Crew Members
Trailers:
Related Movies: